Sheryl's Alaskan Malamutes - Activities - Weight Pulling - UKC - Port Clinton - August 23/24, 2008



Weight Pulling

August 23/24, 2008 - UKC - New England Pullers - Port Clinton, PA
The morning started off beautifully cool for August, but with all the sunshine heated up by mid-morning.

The chute was setup along 3rd base to home plate and the dirt was dry and hardparked. Perfect.

The first class was the 15 lb class, with only one entrant - a 10 lb Italian Greyhound, Lido, who ended up pulling over 600 lbs!! How exciting is that!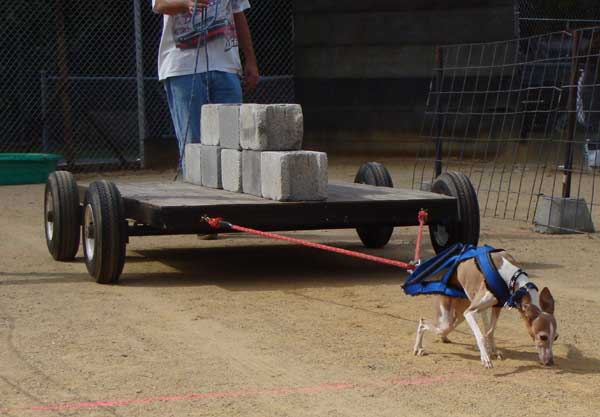 After Lido pulled, the 20/40 lb classes pulled and then the 60/80 lb classes. My camera battery died after the 20/40 lb class :(
The next class was the 100, 120 and unlimited classes.
Cinnabar weighed in at 114 and Sebastian at 144.
They both started out well, but at 1840 lbs, Sebastian flipped me off. Dr. Jekyl went away and Mr. Hyde came out. Total brat and he was done. Cinnabar did 2460 - 21.57% of his body weight on the dirt track. 100 lbs less than his best on carpet!
The big story for Saturday, though, was the competition between Dave G's Ranger and and Dave H's Harley (St. Bernard). Those guys went tit for tat. Ranger kept pulling personal bests until they ended up using all the weight and both pulling 4020 lbs!!! Ranger won on time, by I don't know how many seconds. Woo hoo and wow - both of those dogs did great!
Then on Sunday, the weather was just a tad more humid, although blessedly we had a bit more cloud cover.
"Mr. Hyde" managed to pull a paltry 1020 before flipping me off. Always one step forward, two steps back with this boy. We haven't done anything since May, he had a long wait, it was hot - I'm not sure which annoyed him the most, but he wasn't working for me.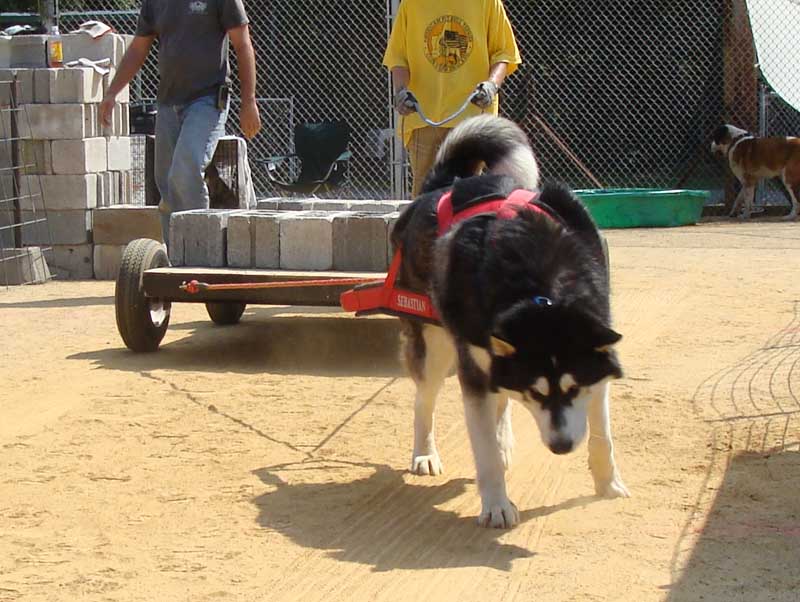 Dr. Jeckyll pulling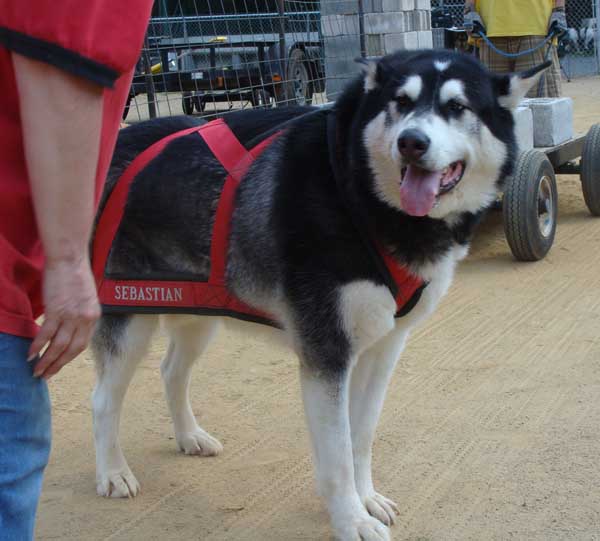 Mr. Hyde flipping me off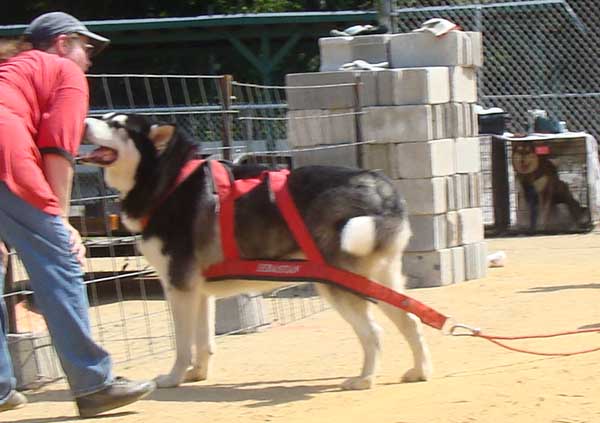 All those same conditions and they live in the same house and they are half brothers, but my sweet Cinnabar did great. He wasn't initially liking going into the chute either day and had to be coaxed. I started doing sit/stays with him while he was on deck, giving him the ok to get him fired up just before going into the chute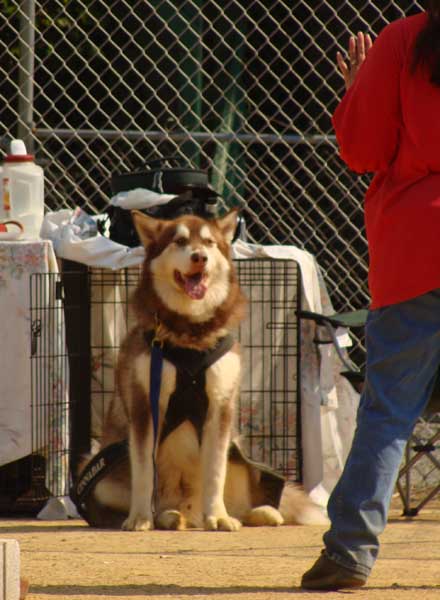 Unbelievably, at the end of the pull only two dogs were left - Cinnabar and Harley. I knew that Cinnabar couldn't compete with Harley, but it was a darn nice position to be in as the last dog standing next to the veteran St. Bernard.
Our last pull would've given him his personal best at 2580. Took him some time to start, he was tired, but he worked with me and he did it. Uh oh! He was over time by 10 seconds or so. A foul, I could've tried him again as it was his first foul and you get two, but he put everything into for me and nope, that was enough. He ended again with 2460 lbs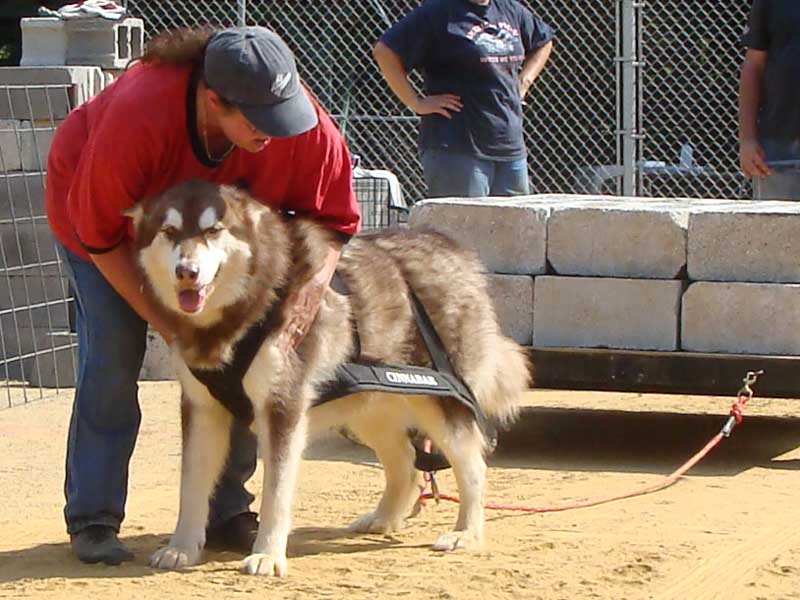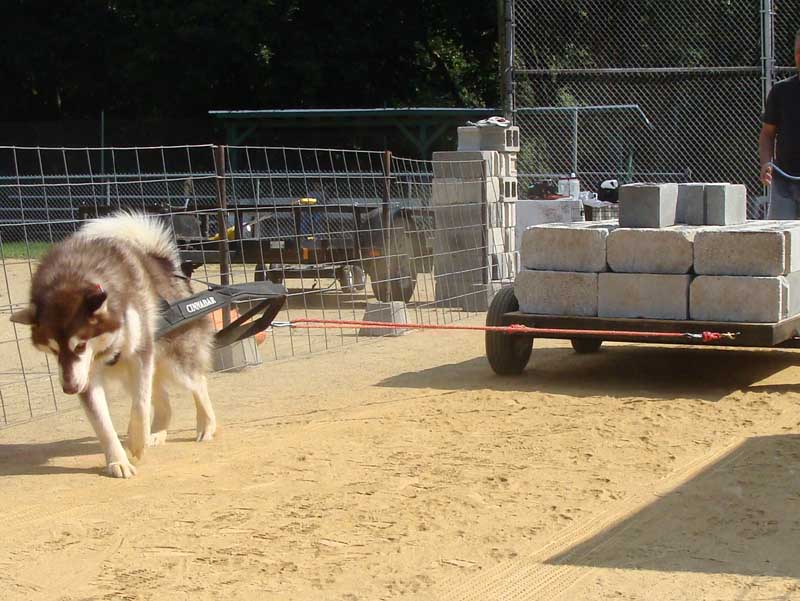 He ended with two first place ribbons for his class, which was competitive. Sebastian got a first place on Saturday, but not on Sunday as this club only ribbons for at least 8 times body weight. That'll teach him (yeah, right).
Ranger didn't pull on Sunday, Dave wasn't feeling well from all the sun on Saturday and he packed up for his long ride home during the final classes pulling.
A long two tiring days of weight pulling - but filled with great dogs, good stories of dogs fairly new to the sport and seeing the light bulbs go on, great people, good competition and all around fun!
A huge thank you to Liz for helming my camera & getting shots of my boys!!!
Photos of all the dogs & more of Sebastian & Cinnabar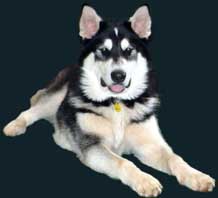 website design by Sheryl
bordered background by Sheryl
© 2005
all images © Sheryl Franklin unless elsewise attributed
all Alaskan Malamute sound files © Sheryl Franklin
website hosting by FranklinCommunications
domain name by DomainRegister.com