Sheryl's Alaskan Malamutes - Activities - Weight Pulling



Weight Pulling
April 14, 2007 - American Malamute Club Eastern PA - Harrisburg, PA
This event was at the Farm Show facility in Harrisburg. There were multiple dog shows going on, including an AMCA Alaskan Malamute specialty. There were over 3000 dogs on the huge property. Huge RVs (dogmobiles) in the parking lot. The weightpull was held after that day's malamute showing was over. It was held indoors on carpet.
For all the chaos and sensory input overload, my guys were both good the whole day. They were crated except for potty breaks and for their pulls. They reacted well to all the noise, other dogs and general commotion. I was very proud of them.
We practiced with a sling before we got there, and actually got Sebastian weighed in. He still made it interesting, and wailed like a baby when first hoisted up. Then he got quiet and looked at me like "it wasn't totally awful". He weighed in at 146. Cinnabar was a breeze to weigh in, the sweet boy. He was 107.
I had realized before this pull, that keeping their gentle leaders on them held them back at the first pull. Consultations with weight pulling friends confirmed this, and on top of that, the rules for this pull allowed only buckle or martingale collars. We went with their martingales, and amazingly enough, their hearing didn't go without their gentle leaders on!
Cinnabar pulled novice, and Sebastian pulled pro (he was the only one in the unlimited class and he did alright at the Port Clinton pull so we went for it).
The cart started empty (the cart is 300 lbs) and they incremented at 88 lbs (two dog food bags) each round. All classes pulled together.
I was able to use a leash on Cinnabar until after the 652 lb pull. That was ok. He had two successful pulls after that. He was initially confused ("Mom, there's something behind me"), but with each succeeding pull, gained more confidence. He innate desire to please was an asset. I used "Let's Go" to call him, and clapped rhythmically while calling him. He pulled a total of 828 lbs and won first place in novice! He learned alot, and gained more confidence.
Sebastian, pulling pro, had no pulls with the leash. He gave some pause on his 3rd pull (476lbs), as he decided to pull it backwards, then forwards, then back, and finally across the finish line before we timed out. He looked good in his other pulls and started to have fun with it. For awhile I had to treat him to come out of his crate, but then he started bursting from his crate, tongue hanging out, tail wagging and having a great time. I used "Place" to call him, and clapped rhythmically while calling him. He pulled a total of 1004 lbs and won first place in unlimited. He would've won first place pulling the cart empty, as he was the only one in his class. But, I was very proud of him. He was confident and enjoying himself.
Now, I've got to pick up some tires for them to pull and we've got to train.
Cinnabar pulling 828 lbs: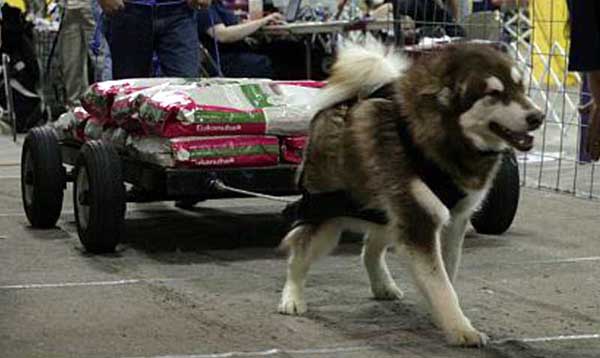 above photo by Moses Martin
Cinnabar attempting 916 lbs: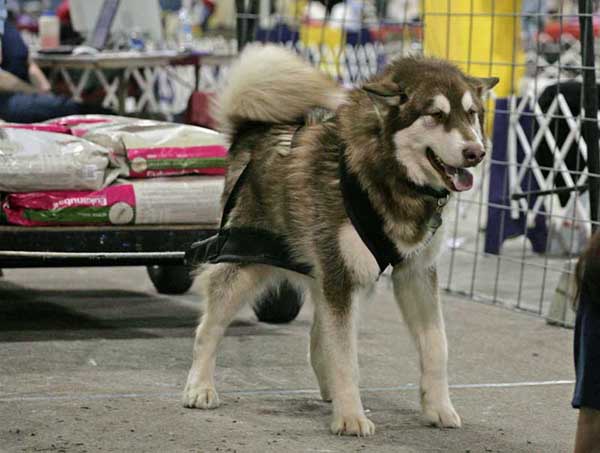 above photo by Moses Martin
Sebastian early pull - having fun: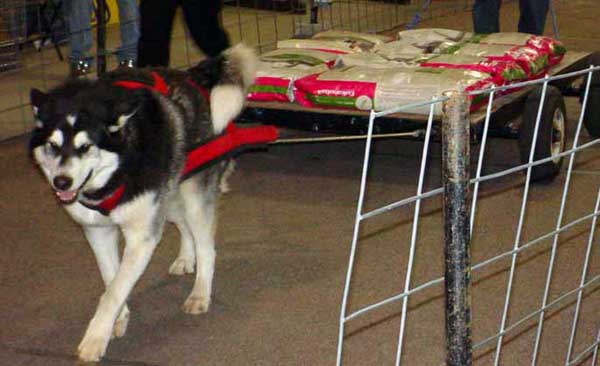 Sebastian pulling 1004 lbs: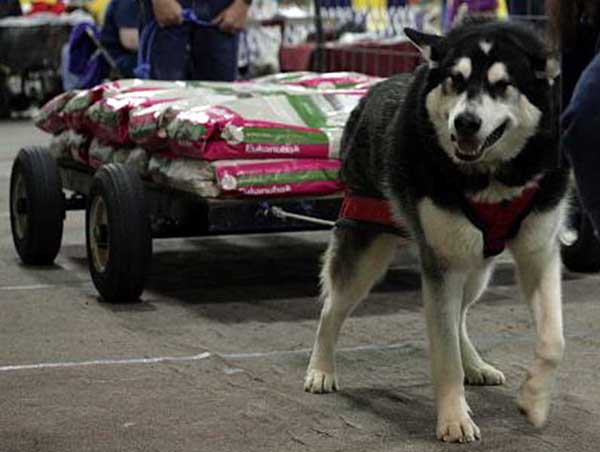 above photo by Moses Martin
Sebastian attempting 1092 lbs: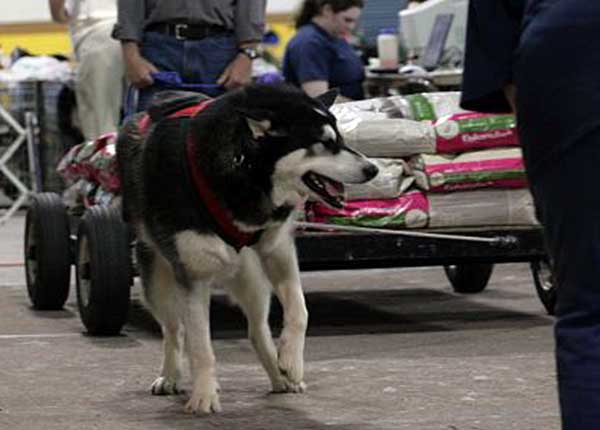 above photo by Moses Martin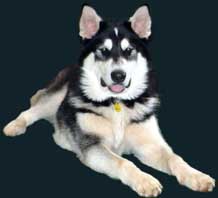 website design by Sheryl
bordered background by Sheryl
© 2005
all images © Sheryl Franklin unless elsewise attributed
all Alaskan Malamute sound files © Sheryl Franklin
website hosting by FranklinCommunications
domain name by DomainRegister.com