Sheryl's Alaskan Malamutes - Activities - Weight Pulling - Demo - Tails on the Trails - September 25, 2010



Weight Pulling - Demo - Tails on the Trails - September 25, 2010

Autumn decided to wait for yet another day, but at least we didn't get into the 90s. Beautiful blue sky and windy.

This year in addition to the weight pull demo, I brought agility equipment. My little dog mobile was really packed to the max.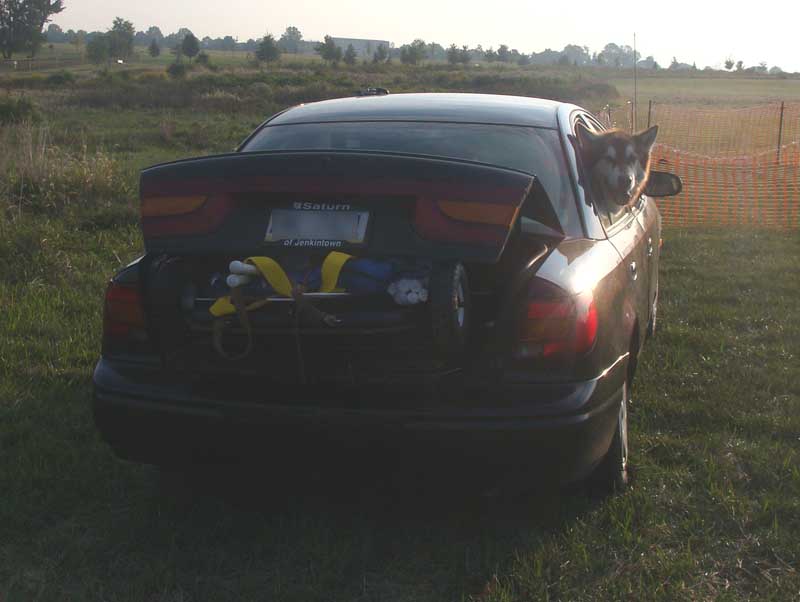 As I pulled into the park, an ambulance was pulling out. Turns out, our organizer Paige was in it. Seems she sliced her leg open setting up a tent. They made an announcement mid-morning that she'd be back in time for the ice cream contest. Dedication! Here's our demo booth and little weightpull chute: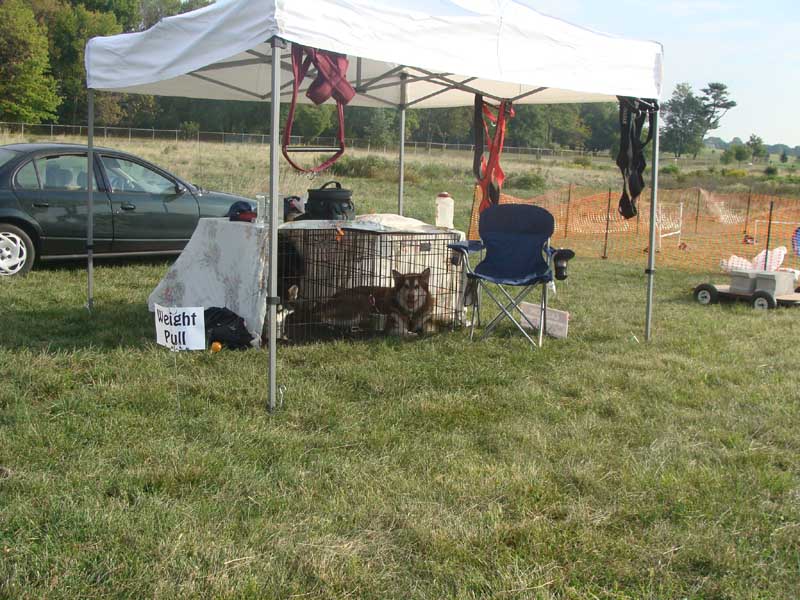 I had my new Sibe-size demo harness that Missy made, in addition to the boys' first harnesses for demo. I took two 90lb cinder blocks with me
Paige had an area cordoned off for agility. She also had some sand bags for me to help anchor the jumps. I took my set of 2x2 weaves, wobble board & agility-in-a-bag kit which includes a tunnel, jumps & tire jump. Cindy, a volunteer assigned to help me between the two areas, also helped setup the agility equipment and fill the extra sand bags that I brought to anchor the little tunnel. Her white Sibe was very helpful, too!
Here's the weaves, tunnel & jumps: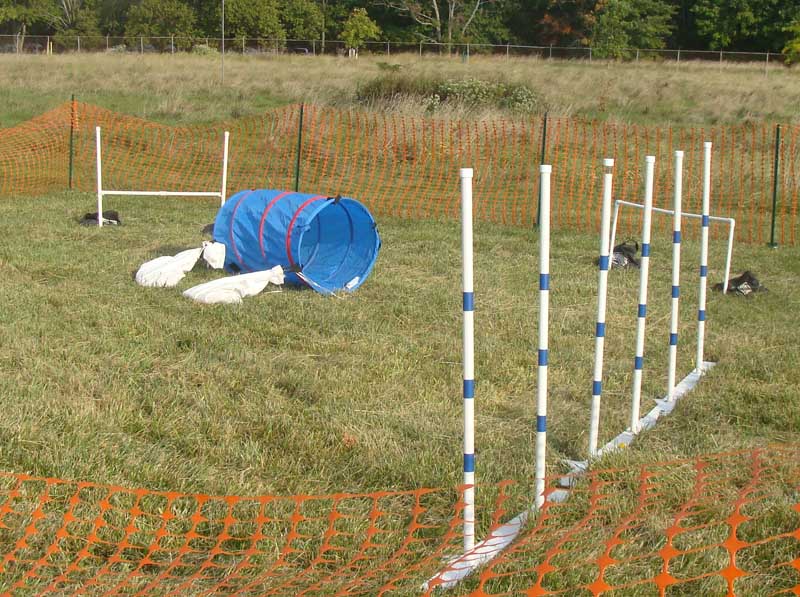 Here's the wobble board & tire jump: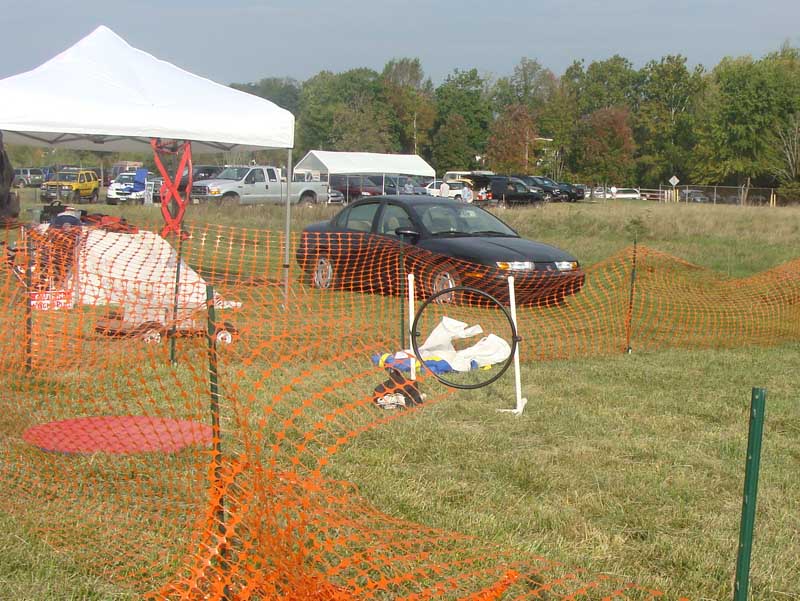 There was also a Siberian Husky Character, really cool!: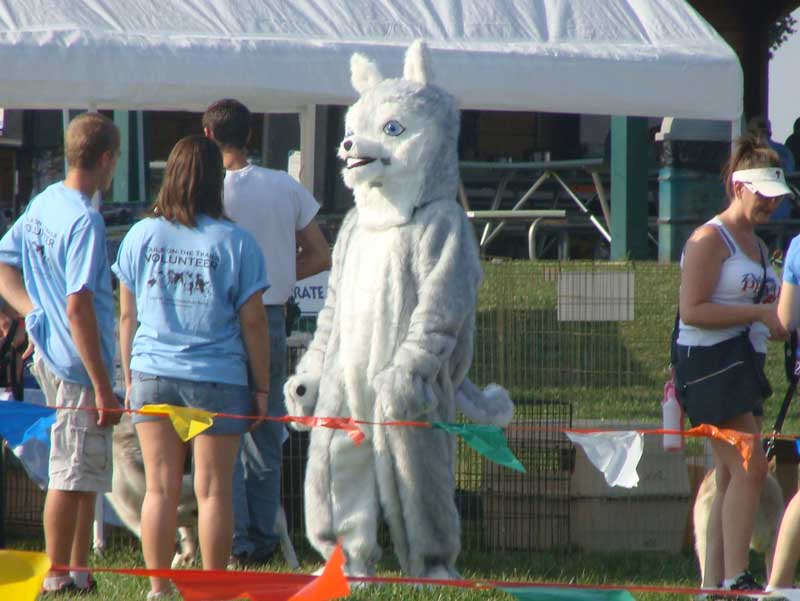 We were right next to the PA Sled Dog mushing demo area, which afforded full view of the long line for registration: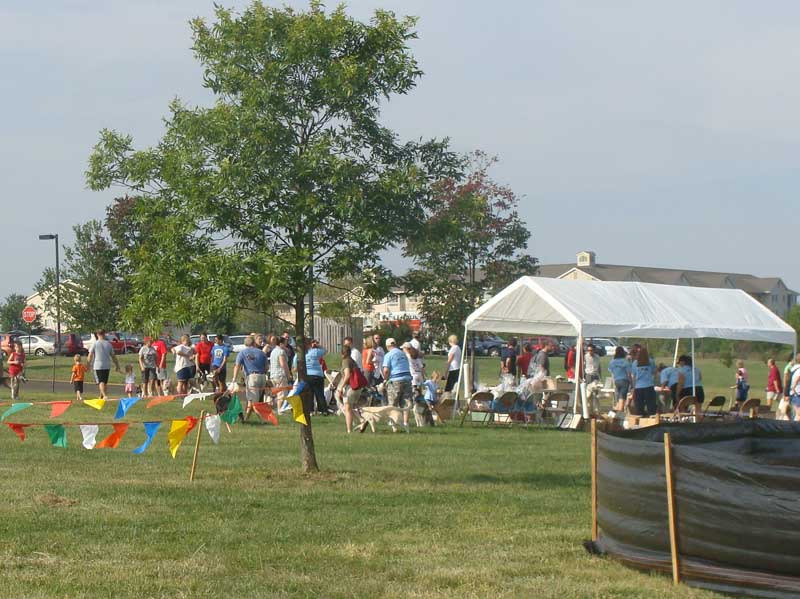 Patty's friend, Phyl found us very quickly and introduced me to more people. Two women with a Sibe came over looking for Cinnabar. Because we were on the opposite side this year, the sun was hitting the front of their crates & I had them covered with reflective material, so they weren't sure he was there. I brought him out so they could see him. Turns out, this is the Sibe who visited Cinnabar about 5 times at the event last year. At that point he really didn't know dog language, but progressed on each visit to Cinnabar. Well, this year, he's a bundle of confidence, and the two got on famously. What a great success story that is!
Had a few folks try both weight pull & agility before the main hike. I wanted to get my boys over to try mushing & figured I'd do it while the bulk of the crowd was on the main hike. When it's time for the hike, the place really clears out. Well, my timing was bad, they were taking a break during the hike :)
Di, whom I met in Windber at the UKC rails pull, came with Macha, her American Bulldog. She's new to the sport, came out to observe the pull in Windber & lives close enough to this event to come out & give Macha some tries with the cart. She stayed for most of the day & was very helpful with weight pull demos.
Here's Macha: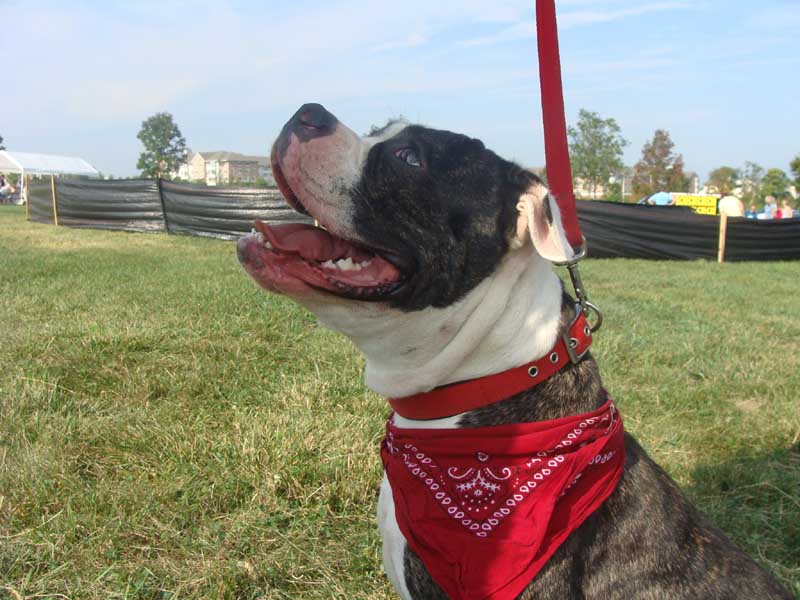 We were really busy when the crowd got back from their hike. Unlike previous years, where I had Cinnabar out shilling to get people interested to try weight pull, folks were at various times lined up to try! I guess because it's our third year at the event, word gets around and people are more interested. Whatever it is, I was really happy about that. We had about 30 Sibes give it a try. In addition there were bull dogs & mixes as well. One lady with a bulldog, who had her own harness, also gave it a try. In all, I'd say about 40 or so gave the sport a try. Some of the Sibes were complete naturals & didn't care that something was behind them. One of them, pulled the cart (which was on an incline) with both blocks on it & only stopped because he ran out of room. Really exciting to see the interest!!
Here's one of the Sibes doing just fine: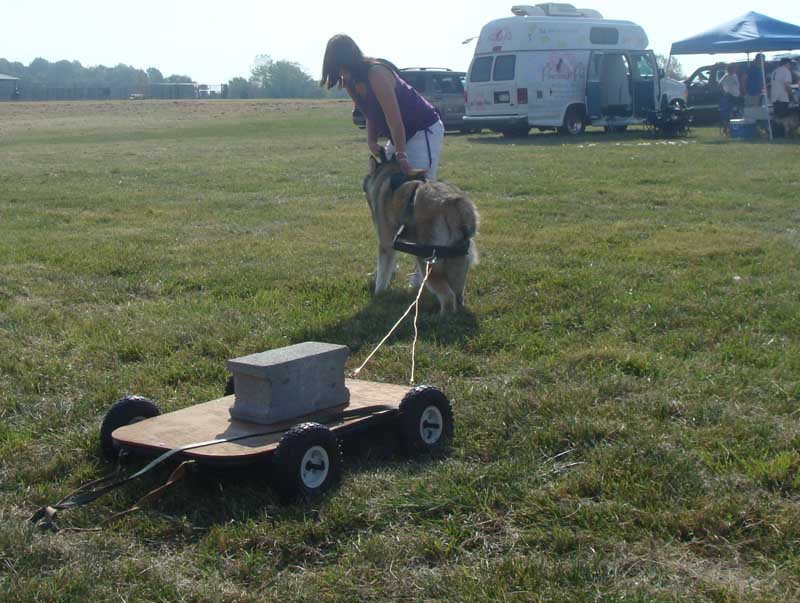 Hey, come back with my cart: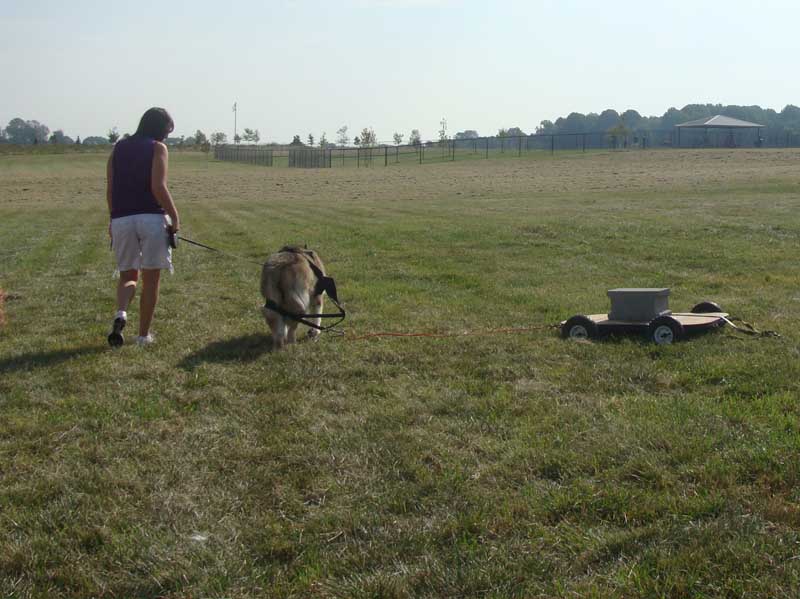 Okay, we'll bring it back: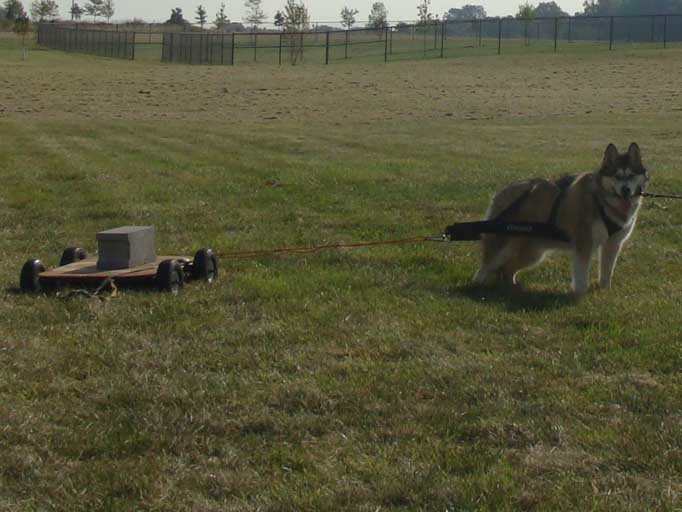 I'd say between 15 and 20 gave agility a try. Some are going to pursue some local classes. I was concerned initially because my jumps are just pvc jumps & it wouldn't be up to snuff. For this kind of venue, it really was just perfect. The little tunnel was not intimidating & dogs that were timid could easily be coaxed through. With the sand bags holding them down, the jumps stood up to the test. The wobble board didn't wobble as much as it normally does because it was in grass, but it wobbled enough to see if a dog had a problem with crossing a shaky surface. A good test to see how they'll do acclimating to the teeter.
My timing getting my boys a shot a mushing continued to be bad, either they were swamped or I caught them on break. They needed breaks because they were running the little sled course along with the dogs. Turns out the man in charge of demos, I'd met a year ago in May at another demo. Turns out he may be working with the UKC club that I belong to for a pull at his races later this year.
Paige did indeed make it back from the hospital, and was on hand for the ice cream eating contest and all the other events left including the silent auction. So glad to see that she was ok!
Here's the ice cream eating contest: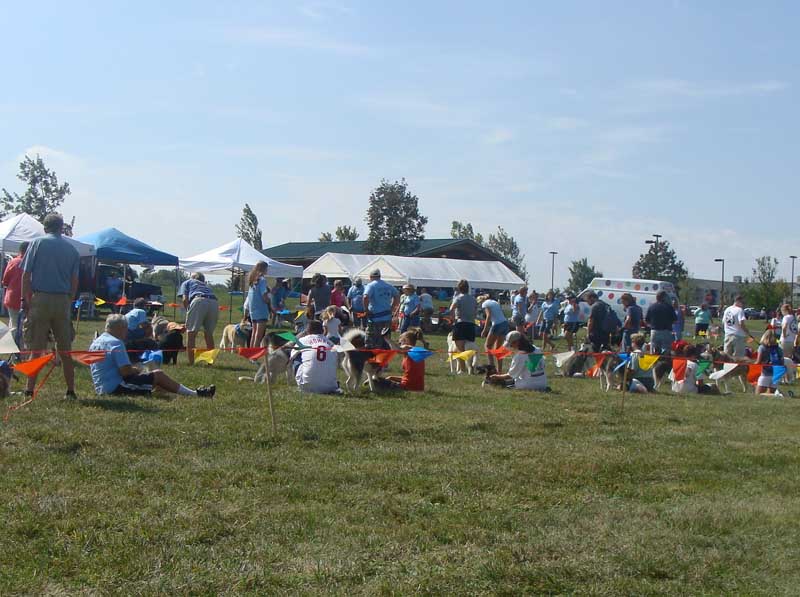 Laura, Bre and Nanook were also there. Her friend with her Dobie, Ivan was also there. He's a sweet dog, bundle of energy. They were going to give CGC testing a try for him. We got to hang out a little bit. Di also met Laura in Windber & will hopefully meet her again at the Cortland weight pull.
We had a big gust of wind and the pegs held on the easy up they set up for me, but two of the legs snapped right off! We were all searching for shade after that! Looks like when it happened it knocked into my side view mirror. I thought it just pushed it off center, but the mirror came off in my hand. Hopefully that's an easy fix.
The event is growing, it looked like at least 4 additional tents this year. Face painting was one, and Bre sported a nicely painted Mal on her cheek :) Caricature artists were there, as well. A tent with hand made braided leashes was there & from all those I saw walking around with them, seemed to be doing a brisk business. There was also a Justice For Bear-Bear tent. Laura told me she spent some time with them & it was Bear-Bear's parents manning the booth.
New tents this year: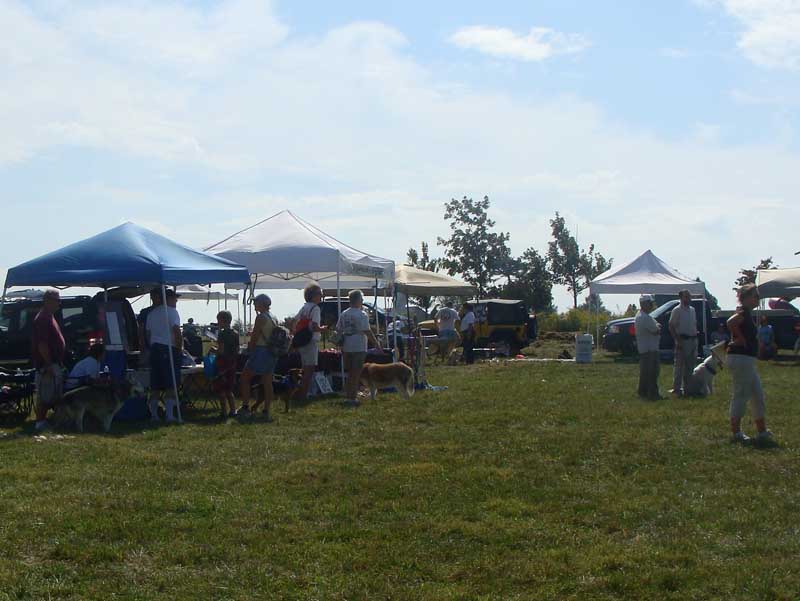 My timing was finally good for mushing and Di snapped some shots for me.
Here they are getting hooked up in wheel position: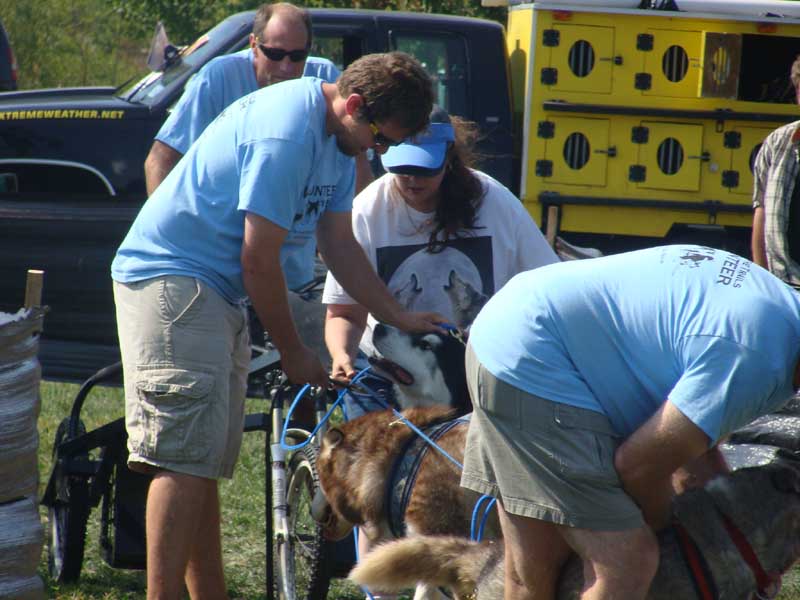 My boys mushing!!: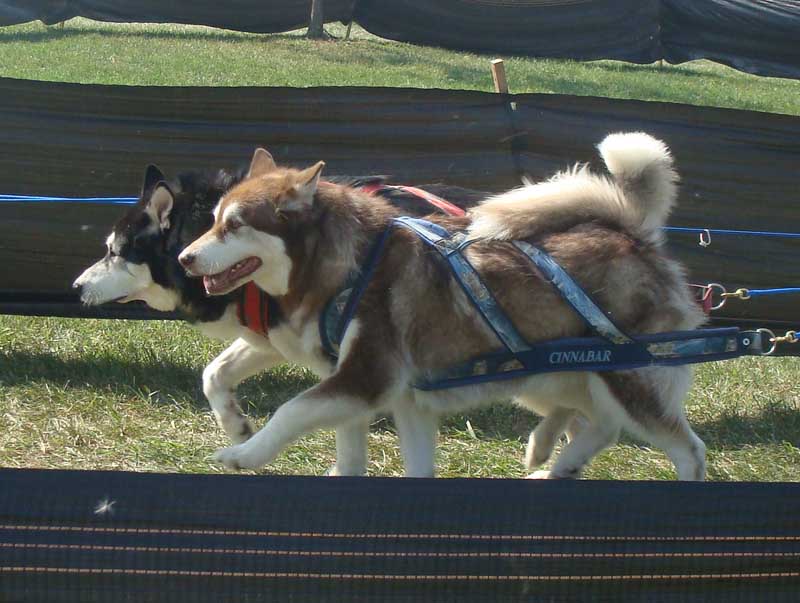 Activity really trailed off while the silent auction went on, so I took the boys over to the caricature artists for a turn. While waiting, Bear-Bear's dad Ryan spent some time with my boys. Cinnabar gave him the "I never get love" story and went belly up for him. Sebastian was not to be left out, and leaned into him pretty good. I mentioned the story about Pepper who got shot by a cop and it turns out, they're following about 14 stories of dogs being shot since Bear-Bear. 14? Really? OMG, so tragic. He asked me to keep interest going in Bear-Bear's story, which I'd be doing anyway. Facebook Justice for BearBear and Justice for Bear-Bear website. I don't know what the answer is, but we've got to stop these senseless shootings!
My boys did fairly well sitting for their portrait, especially considering it was a long, hot day.
Immortalized: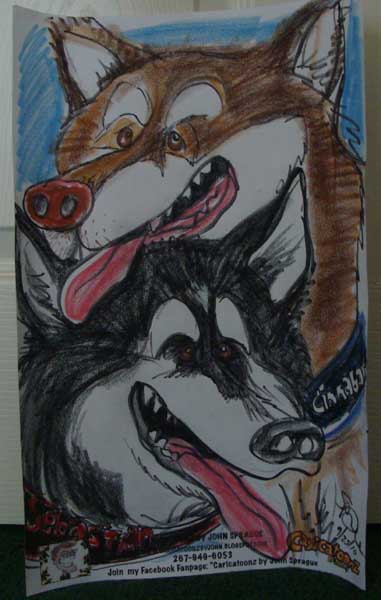 Kudos to Paige, Lee and everyone else from Tails on the Tundra for a well organized, well run growing event!
Back to weightpull demos page
Back to main weight pull page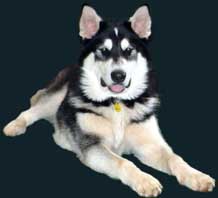 website design by Sheryl
bordered background by Sheryl
© 2005
all images © Sheryl Franklin unless elsewise attributed
all Alaskan Malamute sound files © Sheryl Franklin
website hosting by FranklinCommunications
domain name by DomainRegister.com