Sheryl's Alaskan Malamutes - Activities - Weight Pulling - Demo - Tails on the Trails - September 24, 2011



Weight Pulling - Demo - Tails on the Trails - September 24, 2011

The weather gods have smiled on this event in past years, but were stingy this year. It didn't rain, but was extremely humid and thankfully overcast. Because of all the rain we did have the day before and earlier in the week, the ground was just a mud sponge, so the event was moved up onto the pavement above the pavilion.

As with last year in addition to the weight pull demo, I brought agility equipment. My little dog mobile was really packed to the max.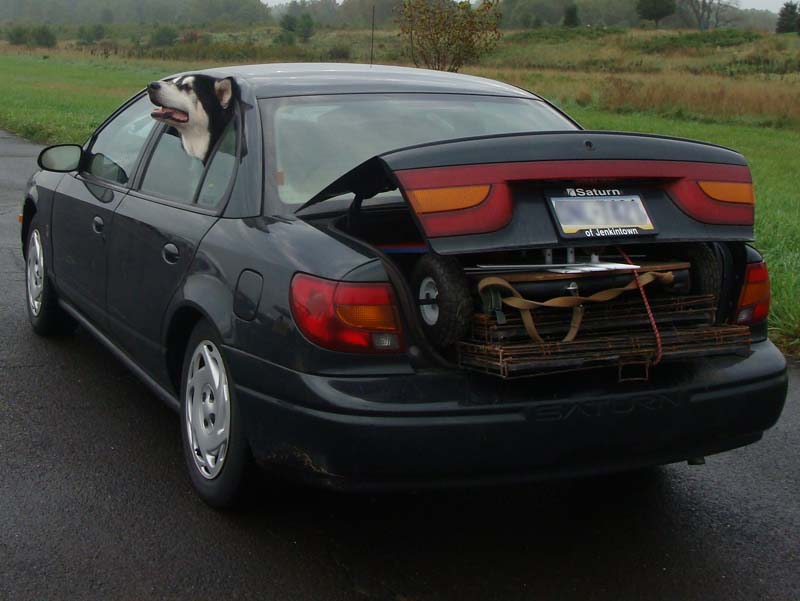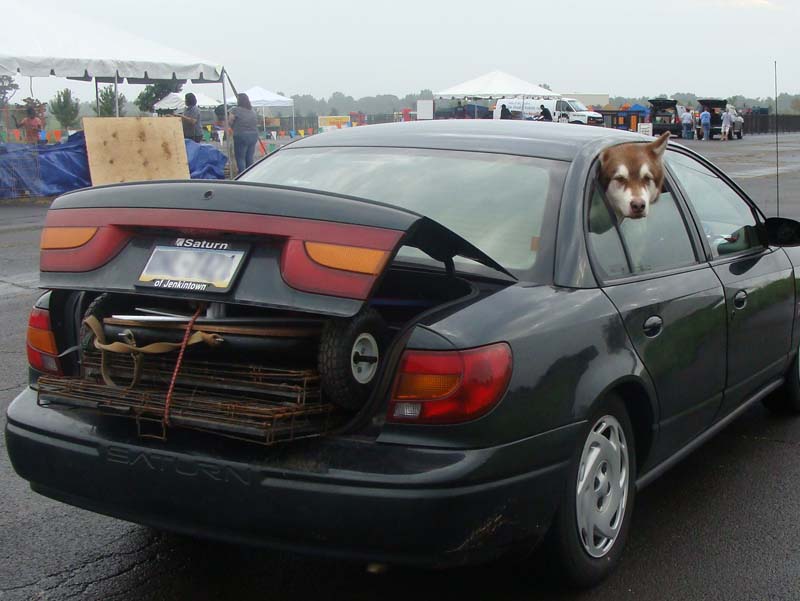 They had a carport for us this year and Susan B helped me with both the weight pull and agility try outs. Thank goodness she had a clear head because while my brain is normally good spatially, I was a ditz trying to put the agility jumps together :) I thought my set of 6 two-by-two weaves had fallen out of the trunk on the drive there, since they weren't in the trunk. Fortunately, I had 4 spare poles from my agility-in-a-bag kit that we were able to use.
Here's our demo booth and agility area: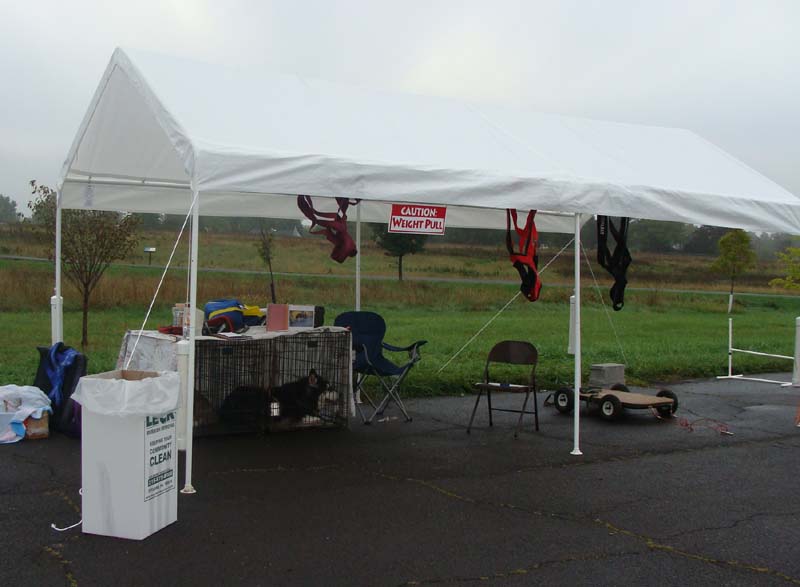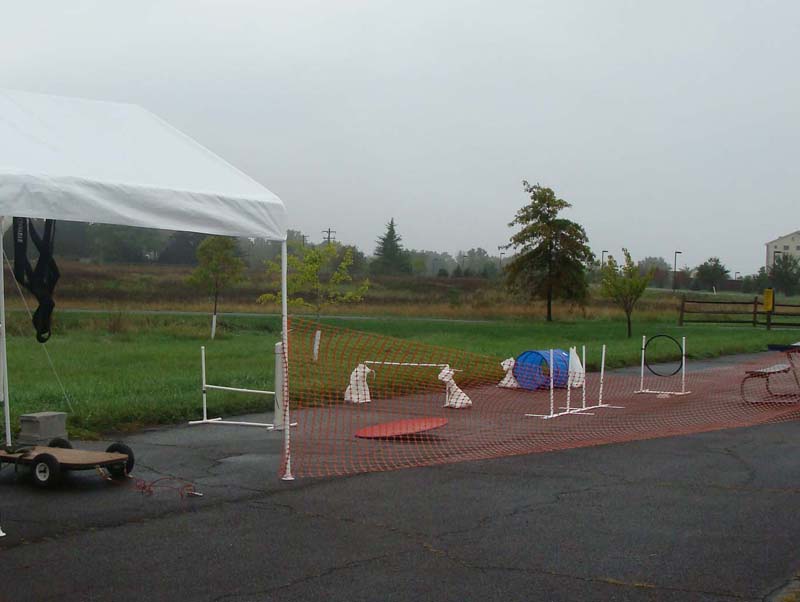 Here's my happy campers, with one refusing to look at the camera, brat: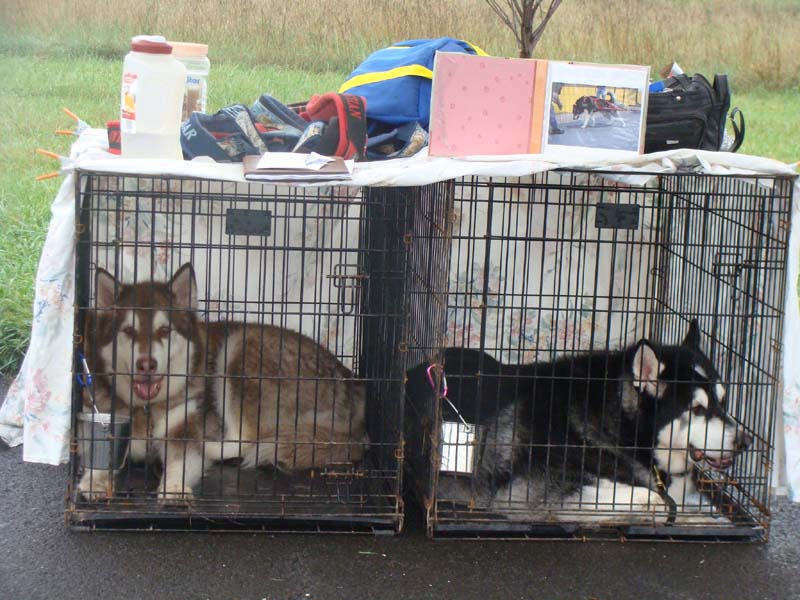 I had my Sibe-size demo harness that Missy made, in addition to the boys' first harnesses for demo. I took two 70lb cinder blocks with me
The crowd was very light. I'm sure that anyone who heard Friday morning's weather report (rain all day) and didn't listen to Friday night's weather report (no rain) didn't come. Still after the hike we started getting some business.
Even with the light crowd, my estimate is that about 18 dogs got harnessed up to give it a shot. Some came back for seconds. Some of the foster Sibes did well and when they came back for seconds it was for photos or videos for their online pages. That's exciting.
Many people took information about the sport and I hope to see some of them at the Novice Pull in Port Clinton next month.
About 20 dogs gave agility a try. Since we were on pavement this year, the wobble board was more challenging than last year when it was on grass and didn't wobble as much. But there were at least 4 dogs who tramped right over it with no issues. Some also came back for seconds with agility. Here's Susan's 10 year old Vixen all harnessed up to pull: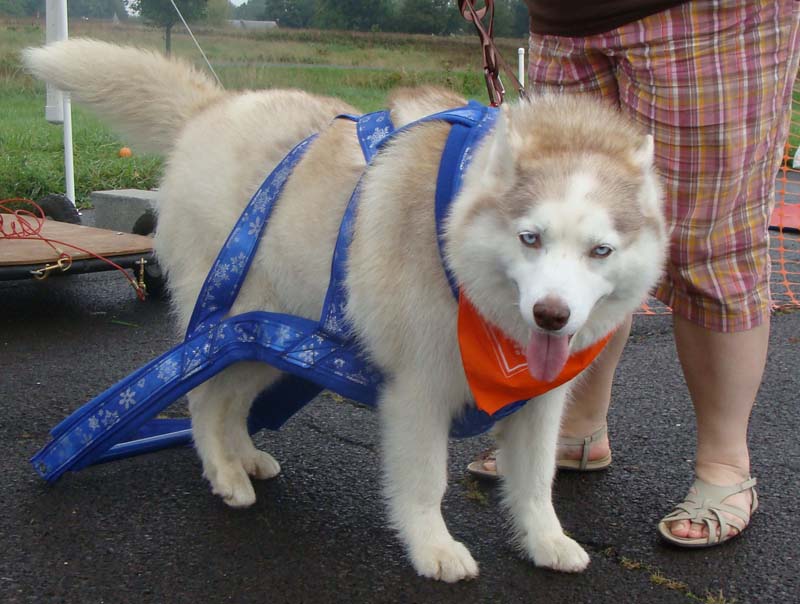 Here's Akina and Denali sporting their RuffWear packs: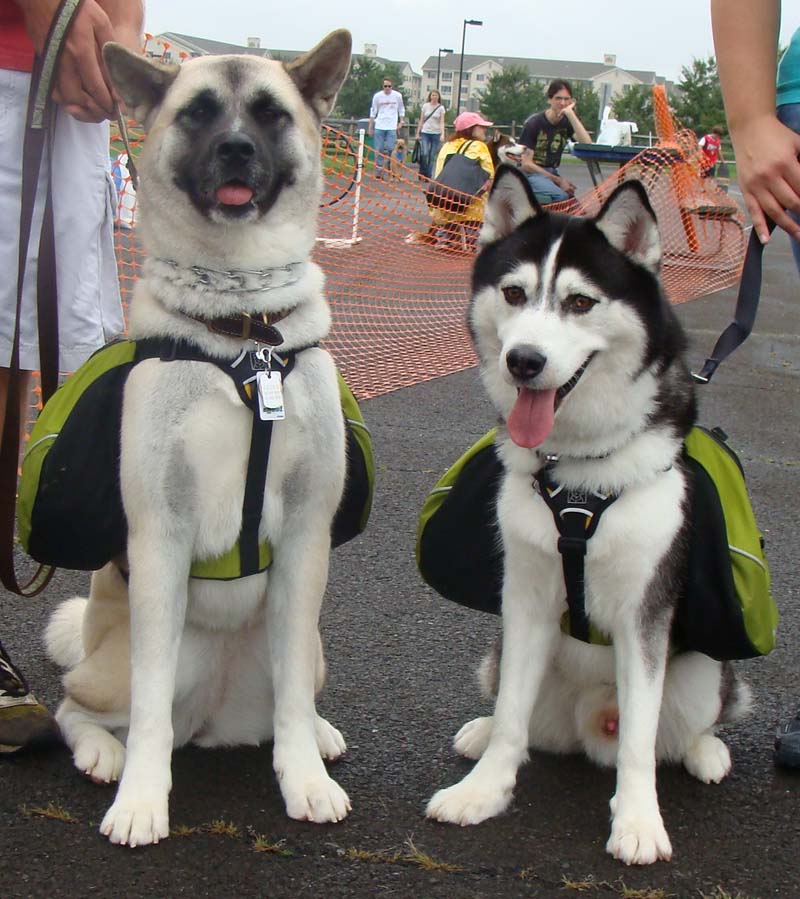 Both of them did well weight pulling and I hope to see them pulling novice next month! They also did well with agility.
The PA Sled Dog Club was setup to our right. Given the setup they didn't setup for their rig, but had dogs giving mushing ahead of a bike a try. The smaller crowds really affected them, usually there's a lineup for them, but not this year. I loved watching the dogs that did give that a try and once they got started, just went to town racing ahead of the bike.
After the ice cream eating contest, Susan brought back a cup for my boys. It didn't last long with either of them :)
As usual, Cinnabar spent a fair amount of time in harness shilling for me and got lots of loving. They both have their fans and got to see people who've seen them in previous years. While contests were going on and no dogs were near us, Sebastian got his fair share of loving with his fans as well.
While the crowd was lighter than usual, the event was still a success. From my little corner it was a success, as I hope to see some of those who did really well at some upcoming Novice Pulls in Port Clinton. With very few exceptions, people took information about the sport.
Kudos to Paige, Lee and everyone else from Tails on the Tundra for a well organized, well run event. To have to move an event of that size from one location to the other and be ready for the different surface isn't easy, but they did it with grace. You can find out more about this terrific group at Tails on the Tundra
Epilogue: I found my set of 6 two-by-two weave poles at home. I had taken them out to repack the trunk trying to get everything in and forgotten to get them in there. Whew!
Back to weightpull demos page
Back to main weight pull page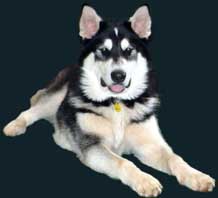 website design by Sheryl
bordered background by Sheryl
© 2005
all images © Sheryl Franklin unless elsewise attributed
all Alaskan Malamute sound files © Sheryl Franklin
website hosting by FranklinCommunications
domain name by DomainRegister.com