Sheryl's Alaskan Malamutes - Activities - Weight Pulling - Demo - K9Jym Green Dog Weight Pull - September 30, 2012



Weight Pulling - Demo - K9Jym Green Dog Weight Pull - September 30, 2012

We headed over to K9Jym on this fine morning for a Green Dog/Fun Pull. My first time at this facility. Tana gives weight pull lessons there, and in preparation for organizing sanctioned pulls, organized this pull. I judged.

The chute is indoors in a drive through garage with doors into the various training/competition rings.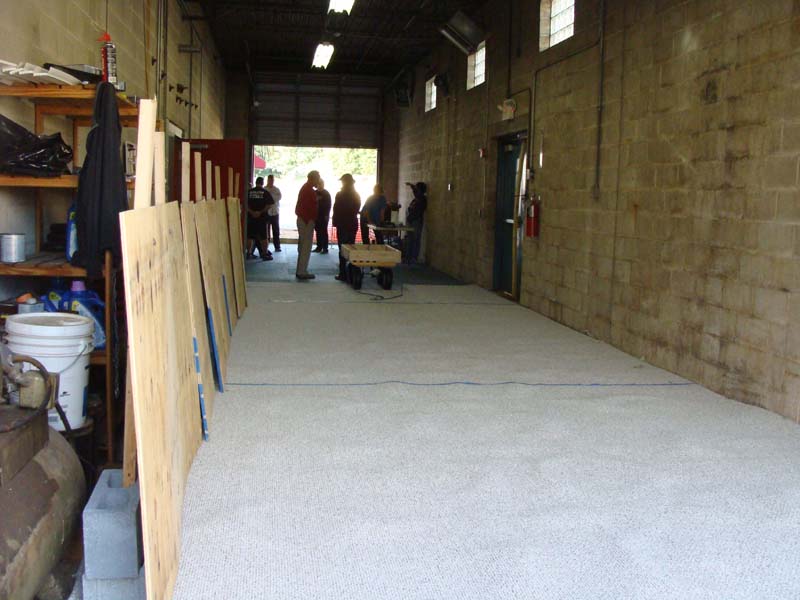 Tana did a great job organizing! New berber carpet freshly rolled out the night before. The cart is rated for 1000lbs max.
Even though this was a fun pull, we let the green dog handlers know how things would be in competition. 25 dogs total pulled! Nice turnout! Missy & Dave brought some of their green dogs. Their sons, Jon and Ian, were junior handlers and both did great. From a judge's point of view they were some of my favorite handlers, dogs always ready for their turn and stepped right in when the dog in front of them wasn't ready. I laid on the praise for that, not just for their benefit, but for the benefit of the green handlers, too.
The cart weighed 125 lbs, the blocks were 30lbs and the green dogs for the most part started on empty and went up one block at a time. Laura was there with Nanook and she started close to 400lbs. DiAne started Macha at 515, same as Cinnabar and Sebastian. We pulled as one class, so by the time I got to the second page of the score sheet, we were down to 11 dogs.
'Nook was being A.D.D. ("oh shiny!"), but he was also doing something new. He kept looking over at me, so every time he came up I ducked my head so he couldn't see me. Laura worked well with him, giving him corrections. This was a great practice pull for him.
There's two green dogs that are going to be something. One is a big rottie named Zeus. The other is a big Swissie named Truffle. Truffle is read for sanctioned now and pulled right through to the end.
As the weights got higher, the carpet started bunching up at the end. The quicker the dog was, the less an issue. It was NO issue for Truffle who just steamrolled it. For my lackadaisical, distance measuring, Sebastian, it was an issue. He kept restarting the cart, though, I was happy with the effort. With Cinnabar it was an issue on his last two pulls. He restarted both times and I'm pleased with his effort.
All in all, a great day! Congratulations to Tana on her successful first organizing effort!
Back to weightpull demos page
Back to main weight pull page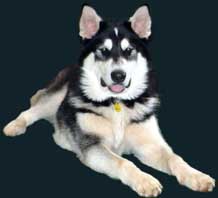 website design by Sheryl
bordered background by Sheryl
© 2005
all images © Sheryl Franklin unless elsewise attributed
all Alaskan Malamute sound files © Sheryl Franklin
website hosting by FranklinCommunications
domain name by DomainRegister.com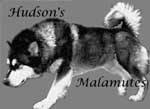 My Mals
Now
Sebastian
Cinnabar
Then
Wolf
Taylor

What's New
Purebred Dog Breeds into the 21st Century