Sheryl's Alaskan Malamutes - Activities - Weight Pulling - Demo - DTCCC - June 20, 2009



Weight Pulling - Demo - DTCCC - June 20, 2009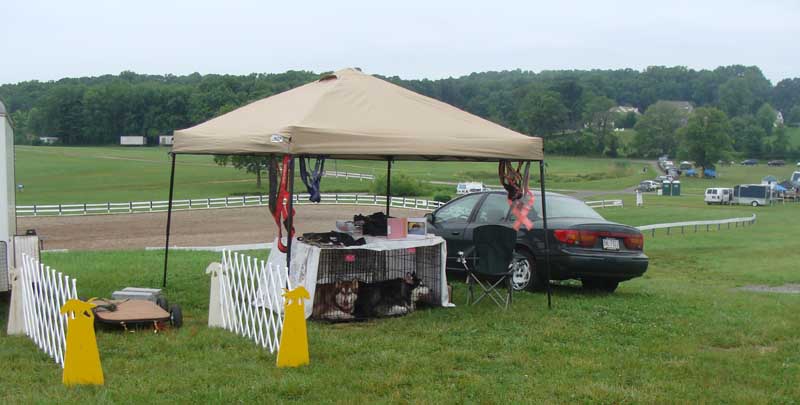 We were asked to give a weightpull demo for the DTCCC (Dog Training Club of Chester County) at their Dog Sports Spectacular at Ludwig's Corner Fairgrounds.
The club did a tremendous job organizing the day. There was rally, obedience, agility, disc dog competition, vendors, demos, games.
The one thing they couldn't organize was the weather. We had our 17th rainy day out of 20 days in June. It was just overcast for the setup, but it started to pour about 9 and didn't let up until after 11. Then we had off and on spritzing with a few showers the rest of the day. The sun came out by 5:15, but everyone was long gone by then. Weird June weather.
I got there about 7:30 to setup. As usual, we elicit smiles and comments when I drive up in my little dog mobile. Everything in the photo above, including the tent, fit in the Saturn. I say fit, but we've got things sticking out of the bungeed trunk, and the EasyUp tent sticks out the passenger window, and of course the dogs have their heads hanging out the back windows. :)
My first time with an EasyUp, and it is easy, but friendly dog people who set these up all time, helped me with the little tricks getting it up, and later on down. I got it to protect us from the sun, but it did a decent job protecting us from the rain.
We were setup right next to the main tent, so we did have alot of foot traffic.
Even given the weather, there were still quite a few people out with their dogs participating in events. Later in the early afternoon, more people showed up hoping that the break in the weather was for real.
I got to speak with quite a number of people after the initial deluge ended and I brought Cinnabar out in harness to "drum up business".
Cinnabar did about 10 demos with the little training cart, and we had one taker about 2:00 when it was considerably drier for trying it. Lacy, a lovely little dalmatian, who turns out to be the sister of Wyatt, who we've pulled with at UKC pulls. She was very sweet, no problems getting acquainted with the harness, or pulling an empty cart. I had two 90lb blocks with me (all I could fit in the car), and she pulled it with 1 block on after she'd pulled it empty - about 4 times her body weight. Not bad at all! I have a feeling we'll see her at some UKC pulls, especially after her mom talks with Wyatt's mom :)
There were a few people there without their dogs who were quite interested, one had a pit mix who really wants to find a job for him. Hopefully, we'll see them at future pulls.
Sebastian was a good boy all day long. No posturing at all and there were lots of dogs walking by. He had stuff to say at some of the dogs, but hushed when told. He had lots of stuff to say when Cinnabar was out shilling for me and got treated, to the delight of the spectators. When it didn't get him anywhere, he turned his back and went to sleep :)
Cinnabar was a love, as usual, and was in heaven with the attention. He was a great ambassador this day, not only for weightpull, but for malamutes. He's really honed his suckup skills. At one point, there was a circle of people around us and he went to each one in turn, sat down and nosed their pockets and then looked up at them sweetly. He accepted all attention and made it hard for people to move on to their next venue :)
I got to meet Chris Bannister from Xtreme Weather Kennels, who gave a mini-seminar on dog sledding. He does sprint racing with his Siberians. He's organizing a race in December in MD and is looking to have a weightpull accompany it.
Even given the weather, the day was a good one in introducing people to the sport. I believe they'll ask us back to do demos at other events. The club is a friendly one full of great dog people, and I always enjoy time spent with great dog people!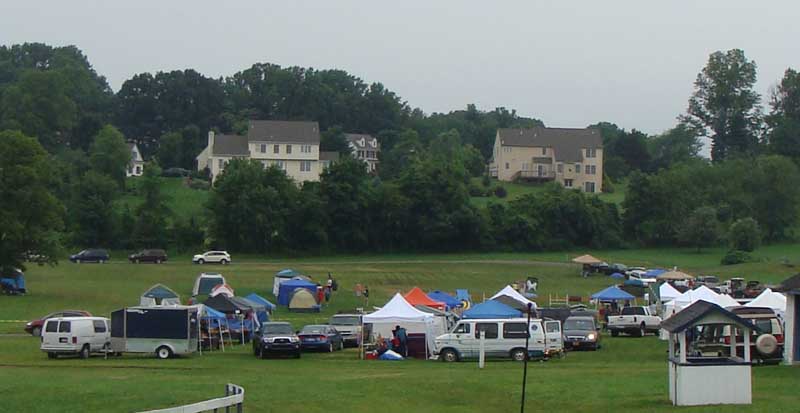 Vendors and beyond them, the agility ring
agility was too far away for me to get any shots of the action :(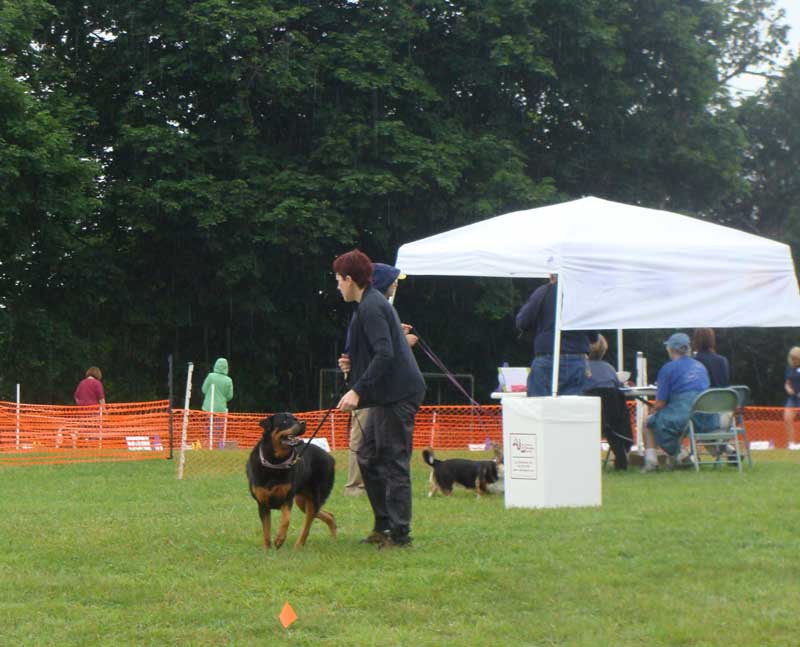 Rally competitors getting ready to compete in the ring beyond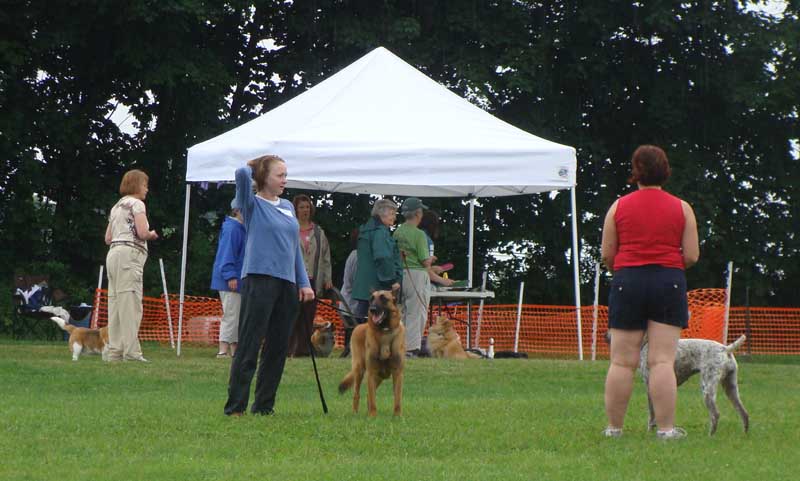 More Rally competitors


Disc Dog competitors
I had a bird's eye view of the disc dogs from my perch on the hill
never having seen it before, it was really fun to watch
Back to weightpull demos page
Back to main weight pull page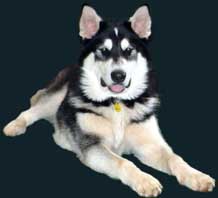 website design by Sheryl
bordered background by Sheryl
© 2005
all images © Sheryl Franklin unless elsewise attributed
all Alaskan Malamute sound files © Sheryl Franklin
website hosting by FranklinCommunications
domain name by DomainRegister.com