Sheryl's Alaskan Malamutes - Eskimo Bandits



Eskimo Bandits

The All Alaskan Malamute Iditarod Dream Team
(An Introduction)
by Jackai Szuhai
(c) 2003 JSz


Years ago, before the turn of the century(or if you prefer, the millenium), a couple of dog lovers met, fell in love and got married. Actually that has happened hundreds and thousands of times throughout the world. What makes this couple and this story so unique is what has happened since. Betty and David Britz love all dogs. They love Alaskan Malamutes especially. They also love to share the pure joy of running snowy trails with them and each other. They are good at it. In 1989 David drove the Eskimo Bandit (as their kennel is named) team to the United States Freight Race Championship. They won that title every year after that until 1995 when ISDRA stopped running Freight Race Championships.

The old champion racers are, of course, retired by now. Those that are still around are still living with them. One of the old lead dogs, Wrangell, just finished his AKC conformation championship at a dog show in Alaska last summer. He was just a little over 13 years of age. (He finished with a major against much younger competition.) Another of the old leaders celebrated his 18th birthday with them in Alaska. Why ? (Readers, I think you have it figured out by now.)

Betty and David have decided to embark upon the ultimate challenge for Alaskan Malamutes. They plan to be the first all AKC registered Alaskan Malamute team to finish the Iditarod. (Yes, readers, you are right. It is not the first attempt. It was tried before. Though the team made a valiant effort, circumstances prevented their finishing. This should never be forgotten or discounted.)

Eskimo Bandit kennels has decided to take to the Iditarod trail. They chose to use Malamutes from half a dozen different breeders, pretty much encompassing all major lines of the breed. That is to keep it an "All Malamute" team. They are doing this for the whole breed. To show the world that Malamutes still have what it takes to attack a trail of this legendary difficulty.

They are also doing it to honor the memory of the teams of Malamutes that participated in the 1925 serum run that carried vital antitoxin to the isolated town of Nome in time to stop an epedemic of diphtheria and save hundreds of lives. Of the 20 courageous teams to run this noble relay race against time and death, at least 5 of them have been identified as Malamute teams.

Now the Britz's and their Malamutes are living in Alaska under remarkably primitive conditions and working toward running the 2005 Iditarod. They have decided to take an extra year to prepare because freakish weather has forstalled proper training conditions. Every one of the dogs, from the old freighters to the youngest, are not only their sled dogs. They are also their friends and companions. Betty calls them her "fur children". Every one of them is a separate and much loved individual. (I was fortunate enough to travel with them on their journey to Alaska and saw this for myself. The book I wrote about this is now available.) The love and attention both of the Britz's pour into the dogs comes back to them in kind.

This was paid tribute to last winter while running in practice. In two separate incidents, the team was attacked by moose. (Presumably two different moose.) Now, a moose is not just a big timid deer! At some times of the year they can be quite fierce. In the mid 1980's, Susan Butcher's team was attacked during the running of the Iditarod Two of her team were killed and about half a dozen of them needed to be hospitalized. Figure they are larger than some horses and besides a rack of palmated antlers that can exceed a 6 foot spread, they have hooves the diameter of dinner-plates and they know how to use everything they have !

As I was saying, while out on the trail miles from anything, the team was attacked by an angry moose. It started after the team and then turned its attention to David. There was no place for David to duck into for safety. As it charged him, one of the dogs pulled out of his harness and went after the moose. If I say it was touch-and-go you need to be aware that the "touches" the moose was handing out were like blows from a baseball bat! Poor Elim(that's who it was) snapped and snarled, biting the legs that were delivering the ferocious beating. Finally Elim prevailed and the moose ran off down the trail. David got Elim and the whole team home as fast as possible. When they could touch him enough to go over him thoroughly they discovered that he was bruised over half of his body and he had one fang kicked right out of his mouth !

There was a second moose attack that was even more dramatic. I won't go into it now in the interest of space in your newsletter. It is covered more thoroughly in the book that I have already mentioned. There is a lot more there about Betty and David and the kind of people they are, also. I will just close by saying these are people who love and are loved by each and every one of their dogs and who love the whole breed very much.





* * *


An all Alaskan Malamute team running in the Iditarod is a wonderful thing for the whole breed!

Want to know more and support the Eskimo Bandits? Jackai Szuhai has written about her trip with the Britz's to Alaska. The proceeds go to support the Eskimo Bandits.

The Trail to the Iditarod Trail
by Jackai Szuhai

You can click on the link to the left to order from Amazon

OR

You can email Jackai Szuhai to order the book along with an enclosed sponsor produced DVD about the team.
Great video of the dogs!

Jackai said, "It is actually a tad cheaper from me directly and then the Eskimo Bandit Dream Team gets more from the purchase"

I ordered directly from Jackai and loved the book, and thought the DVD was terrific.


The official website of the Eskimo Bandits (U.S. Freight Team Champions) is EskimoBandit.com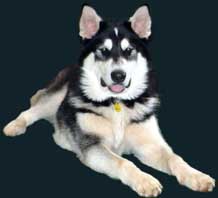 website design by Sheryl
bordered background by Sheryl
© 2005
all images © Sheryl Franklin unless elsewise attributed
all Alaskan Malamute sound files © Sheryl Franklin
website hosting by FranklinCommunications
domain name by DomainRegister.com